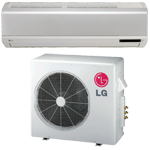 LG's single zone and multi zone system solutions offer stylish and energy-efficient products to the residential and light commercial consumer.
Single Zone Systems
LG Duct-Free Split single zone systems offer many styles of indoor units to complement any décor. These one-to-one systems include an outdoor unit complemented with an indoor unit, offering a complete air conditioning system for any home or light commercial space.
Multi Zone Systems
Multi zone heat pump systems provide outdoor units for two, three, four and up to eight separate zones. A variety of indoor units are available for any application; systems can be configured with all non-ducted, all ducted, or with both non-ducted and ducted indoor units.
LG Art Cool High Wall Duct Free Units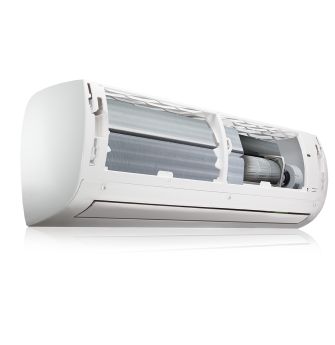 Art Cool Premier HYV3 Series
View Brochure
Model Family: LAN***HYV3
Purpose: Heat and Cool
Zone Capability: Single zone
Efficiency SEER: Up to 27.5 SEER
Efficiency EER: Up to 15.79 EER
Efficiency HSPF: Up to 13.5 HSPF
Matching Outdoor Unit: Single-Zone: LAU***HYV3
Matching Outdoor Unit: Multi-Zone:
Energy Star Rated: ENERGY STAR®
Refrigerant Type: R-410A
Number of Fan Speeds: Up to 6 Fan Speeds
Sound Level: Quiet operation
Wireless Remote: Yes
Factory Warranty Parts: 5 Year Parts Warranty
Manufacturer's Stated Benefits:
24-Hour on/off timer
4-Way auto swing
Auto changeover
Auto restart
Built-in low ambient operation to 14
Chaos wind
Condensate sensor connection
Defrost control
Dehumidifying mode
Hot start
Jet cool/Jet heat
Self cleaning indoor coil
Self diagnosis
Sleep mode
Soft dry operation
Soft dry operation
Cooling only switch
3M Micro Protection Filter
Smart AC module

Art Cool Gallery
View Brochure
Model Family: LAN***HVP
Purpose: Heat and Cool
Zone Capability: Multizone
Efficiency SEER: Up to 16 SEER
Efficiency EER: Up to 12.5 EER
Efficiency HSPF: Up to 8.2 HSPF
Matching Outdoor Unit: Single-Zone: LAUXXXHVP
Matching Outdoor Unit: Multi-Zone: Dependent on the number of inside units
Energy Star Rated: Energy Star Rated
Refrigerant Type: R-410A
Number of Fan Speeds: Up to 5 Fan Speeds
Sound Level: Quiet operation
Wireless Remote: Yes
Factory Warranty Parts: 5 Year Parts Warranty
Manufacturer's Stated Benefits:
Self-cleaning coils in the indoor unit for easier maintenance
Many modes included, controlled through wireless remote: Cooling, Heating, Dehumidifying, Fan, Auto, Auto Sleep, Defrost
Chaos Wind electronically controls fan speeds to create a more natural flow of air; Jet Cool operates at high fan speeds for 30
Allows refrigerant piping lengths up to 49 feet, and elevation difference up to 23 feet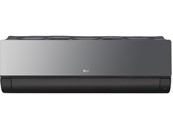 Art Cool High Wall Mirror HSV5 Series
View Brochure
Model Family: LAN***HSV5
Purpose: Heat and Cool
Zone Capability: Single Zone and Multizone
Efficiency SEER: Up to 21.5
Efficiency EER: Up to 14.5 EER
Efficiency HSPF: Up to 11.3 HSPF
Matching Outdoor Unit: Single-Zone: LSU***HSV5
Matching Outdoor Unit: Multi-Zone: Dependent on the number of inside units
Energy Star Rated: Energy Star Rated
Refrigerant Type: R-410A
Number of Fan Speeds: Up to 6 Fan Speeds
Sound Level: Quiet operation
Wireless Remote: Yes
Factory Warranty Parts: 5 Year Parts Warranty
Manufacturer's Stated Benefits:
4-Way auto swing
24-Hour on/off timer
Auto restart
Auto changeover
Chaos wind
Condensate Sensor Connection
Inverter (variable speed compressor)
IDU compatible with Multi F ODU
Jet cool/Jet heat
3M Micro Protection Filter
Self-cleaning indoor coil
Sleep mode
Cooling only function
LG Indoor Ductless Heat Pump Units
LG Alternate Indoor Ductless Units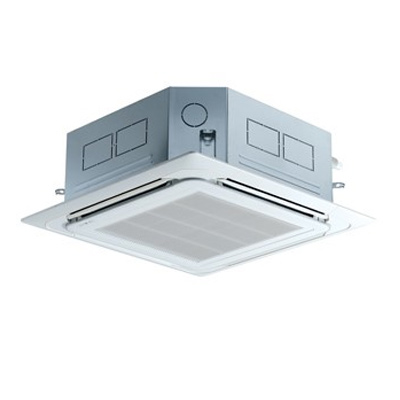 4-Way Cassette Single Zone HV4 Series
View Brochure
Model Family: LCN***HV4
Purpose: Heat and Cool
Zone Capability: Single Zone and Multizone
Efficiency SEER: Up to 20.2 SEER
Efficiency EER: Up to 13.65 EER
Efficiency HSPF: Up to 10.5 HSPF
Matching Outdoor Unit: Single-Zone: LUU***HV
Matching Outdoor Unit: Multi-Zone: Dependent on the number of inside units
Energy Star Rated: No
Refrigerant Type: R-410A
Number of Fan Speeds: Up to 5 Fan Speeds
Sound Level: Quiet operation
Wireless Remote: Yes
Factory Warranty Parts: 5 Year Parts Warranty
Manufacturer's Stated Benefits:
Inverter variable-speed compressor on the outdoor unit for energy-saving operation
Many modes included, controlled through wireless remote or wired wall controller: Cooling, Heating, Dehumidifying, Fan
Independent louver control
Internal condensate pump included
Swirl Wind controls the louvers and fan speeds to create a stronger, wider air flow
Jet Cool operates at high fan speeds for 30 minutes to quickly cool down a room
Operates down to 5?F in cooling mode
Allows refrigerant piping lengths up to 164 or 246 feet (depending on the model), and elevation difference of 98 feet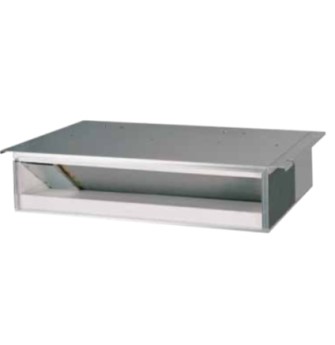 Low Static Ducted Indoor Unit
View Brochure
Model Family: LD***HV4
Purpose: Heat and Cool
Zone Capability: Single Zone and Multizone
Efficiency SEER: Up to 18.5 SEER
Efficiency EER: Up to 12.7 EER
Efficiency HSPF: Up to 10.3 HSPF
Matching Outdoor Unit: Single-Zone: LUU**7HV
Matching Outdoor Unit: Multi-Zone: Dependent on number of inside units
Energy Star Rated: No
Refrigerant Type: R-410A
Number of Fan Speeds: 3 Fan Speeds
Sound Level: Quiet operation
Wireless Remote: Yes
Factory Warranty Parts: 5- Year Limited Parts Warranty
Manufacturer's Stated Benefits:
ESP control
Hot Start
Auto restart
Two-thermistor control
Sleep mode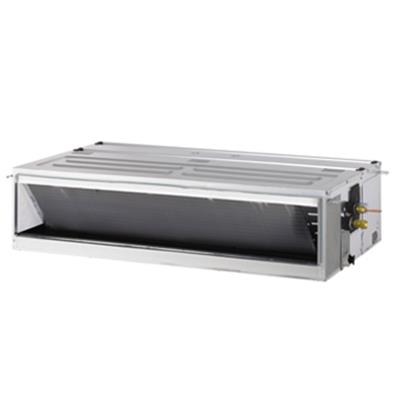 High Static Ducted Indoor Unit
View Brochure
Model Family: LH2**HHV4-LH3**HV4
Purpose: Heat and Cool
Zone Capability: Single Zone and Multizone
Efficiency SEER: Up to 19 SEER
Efficiency EER: Up to 12.5 EER
Efficiency HSPF: Up to 10.9 HSPF
Matching Outdoor Unit: Single-Zone: LUU***HHV
Matching Outdoor Unit: Multi-Zone:
Energy Star Rated: No
Refrigerant Type: R-410A
Number of Fan Speeds: 3 Fan Speeds
Sound Level: Quiet operation
Wireless Remote: Yes
Factory Warranty Parts: 5-year parts limited warranty
Manufacturer's Stated Benefits:
Auto operation and auto restart operation
Two-thermistor control
Inverter variable-speed fan
Built-in condensate pump